What did I see on a free walking tour in Kutaisi? Here are memories with tons of photos. I recommend that tour to anyone who is going Kutaisi for the first time.
Where does Kutaisi free walking tour start?
Kutaisi free walking tour meeting point is by Colchis Fountain, on stairs of Meshkisvili Theatre building which is recognizable by huge columns.
The fountain is one symbols of Kutaisi and located about half a kilometer away from Tourism info Center, on the east side of Kutaisi's city center.
On photo to the right is main park in Kutaisi and walking through it leads you to amazing pancakes. Straight ahead is one of the most interesting hostels in Kutaisi I stayed at. Out of the photo on the left is McDonald's.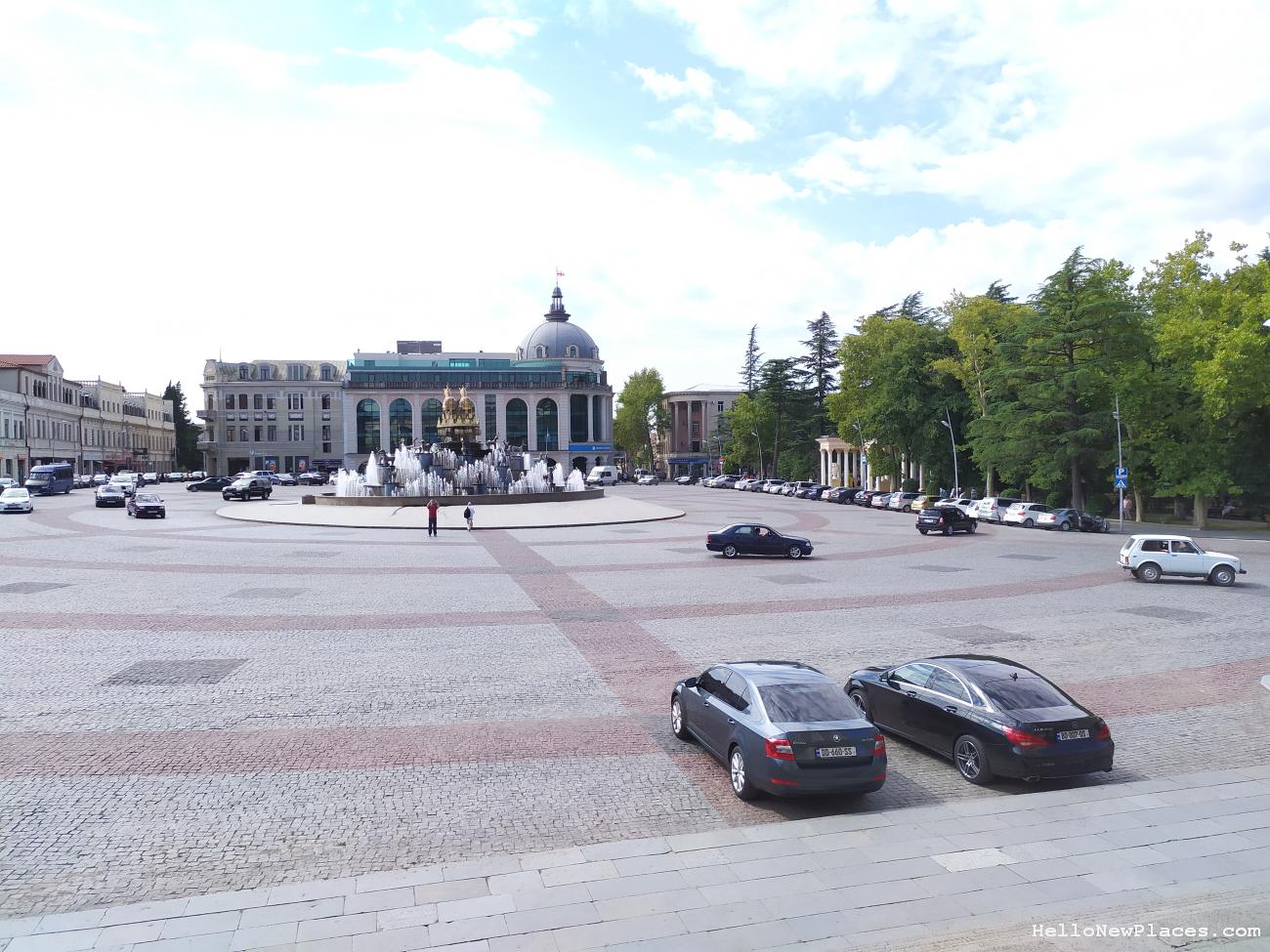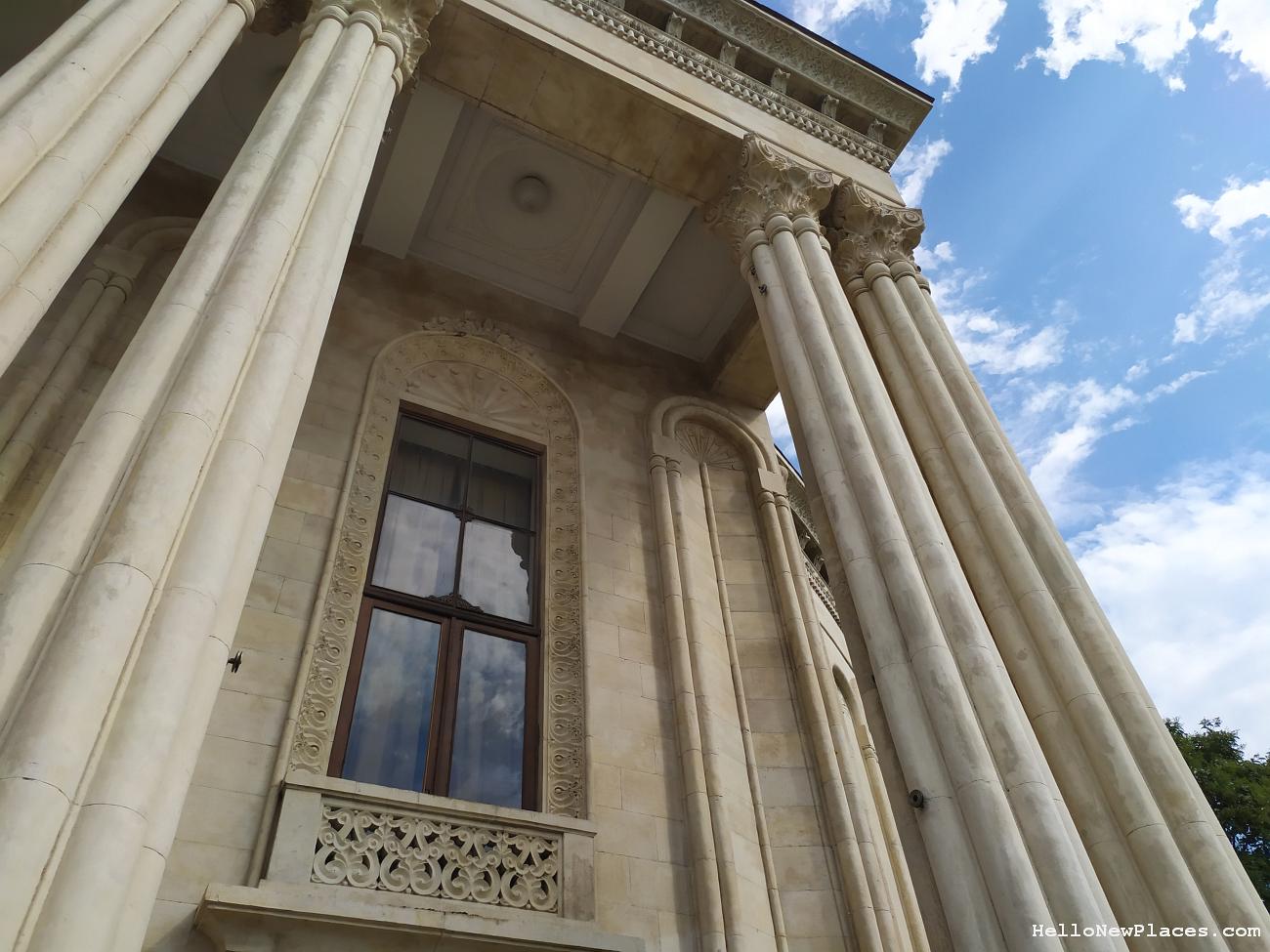 Tour times and dates
You'll find up-to-date info here https://www.freetour.com/kutaisi/free-walking-tour-kutaisi
Our guide was Akaki, a local and enthusiastic to introduce his city to our group. We were some 7 people there, mostly backpackers. He started with story of the theatre building and summarized what to find in city park.
Museums and Jewish district
Our first stop was Photo museum almost around the corner. As photography inside was not allowed... I'll say that old photos on walls told almost incredible stories.
Have you thought what life in Kutaisi, Georgia was like over hundred years ago?
I had. And photos gave answers. It was not what I had imagined and also obviously it was in black and white - but it was fascinating. This museum is definitely worth visiting when in Kutaisi.
We passed one of many small shops in Kutaisi. For coffee prices reference, one Georgian lari is about 0,3€.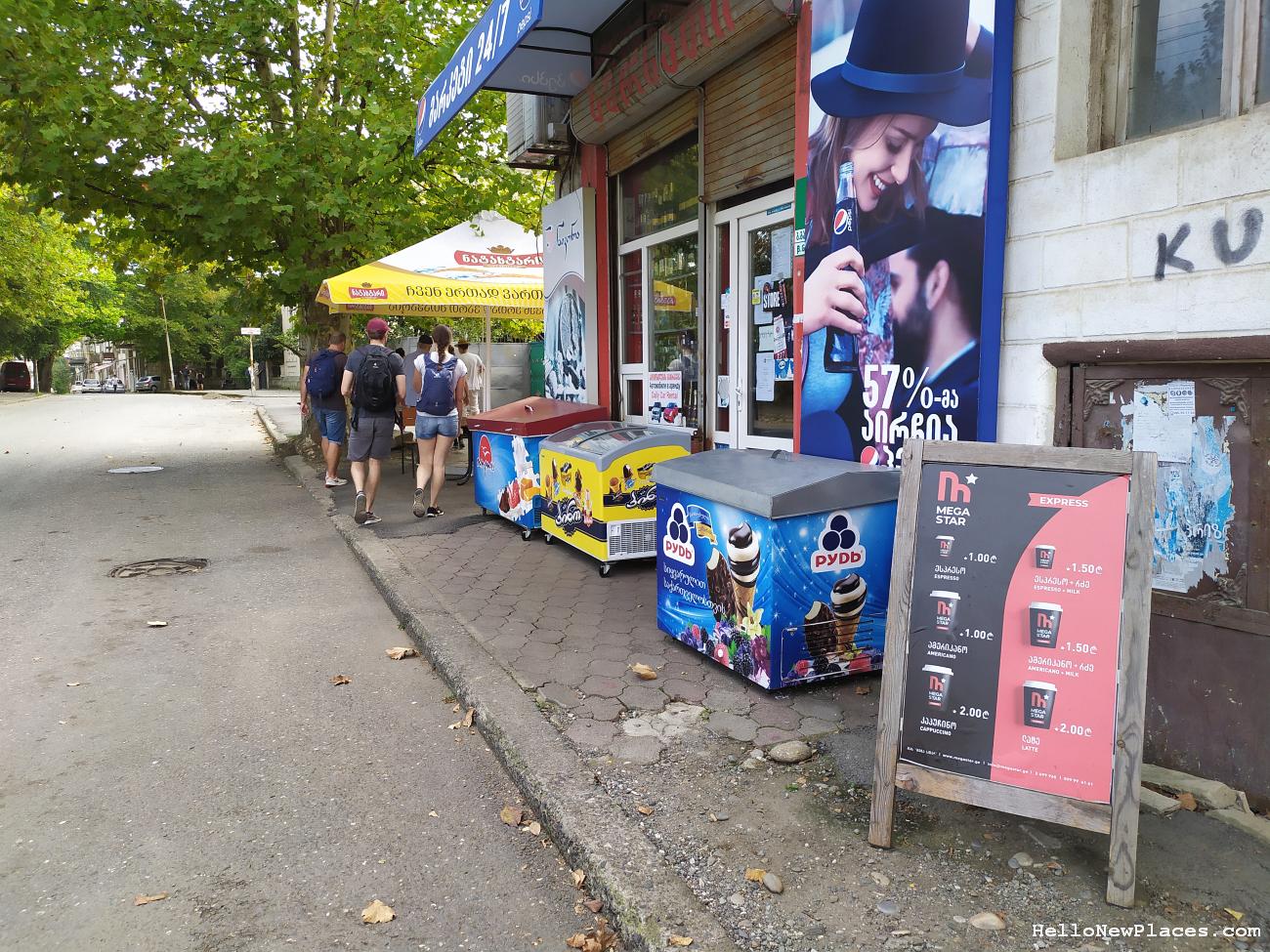 Then we walked to Jewish district. Kutaisi's Jewish community was one of the largest in Georgia until about 2008. Our guide told us the stories in detail. We stopped by a synagogue and peeked inside through windows.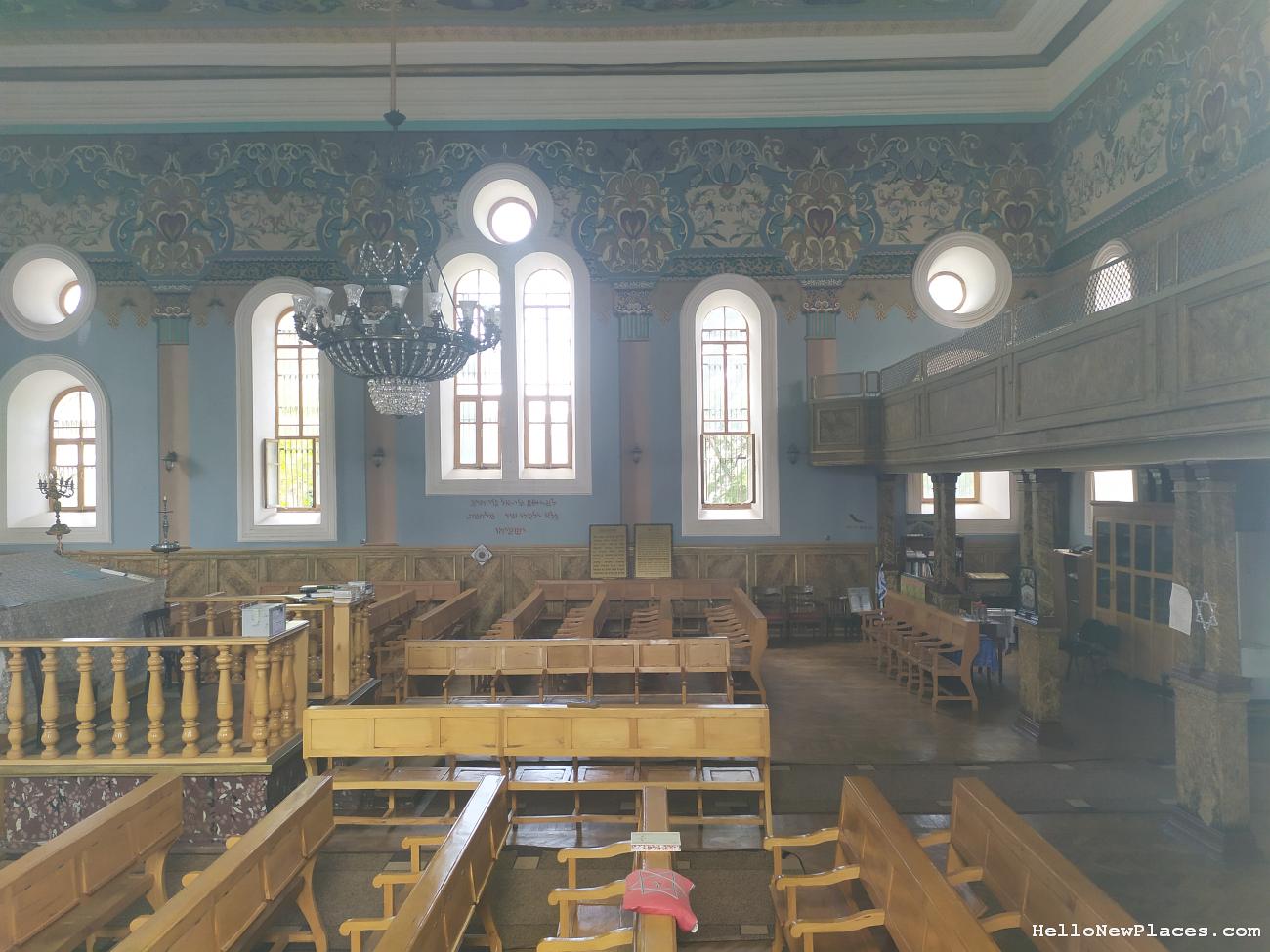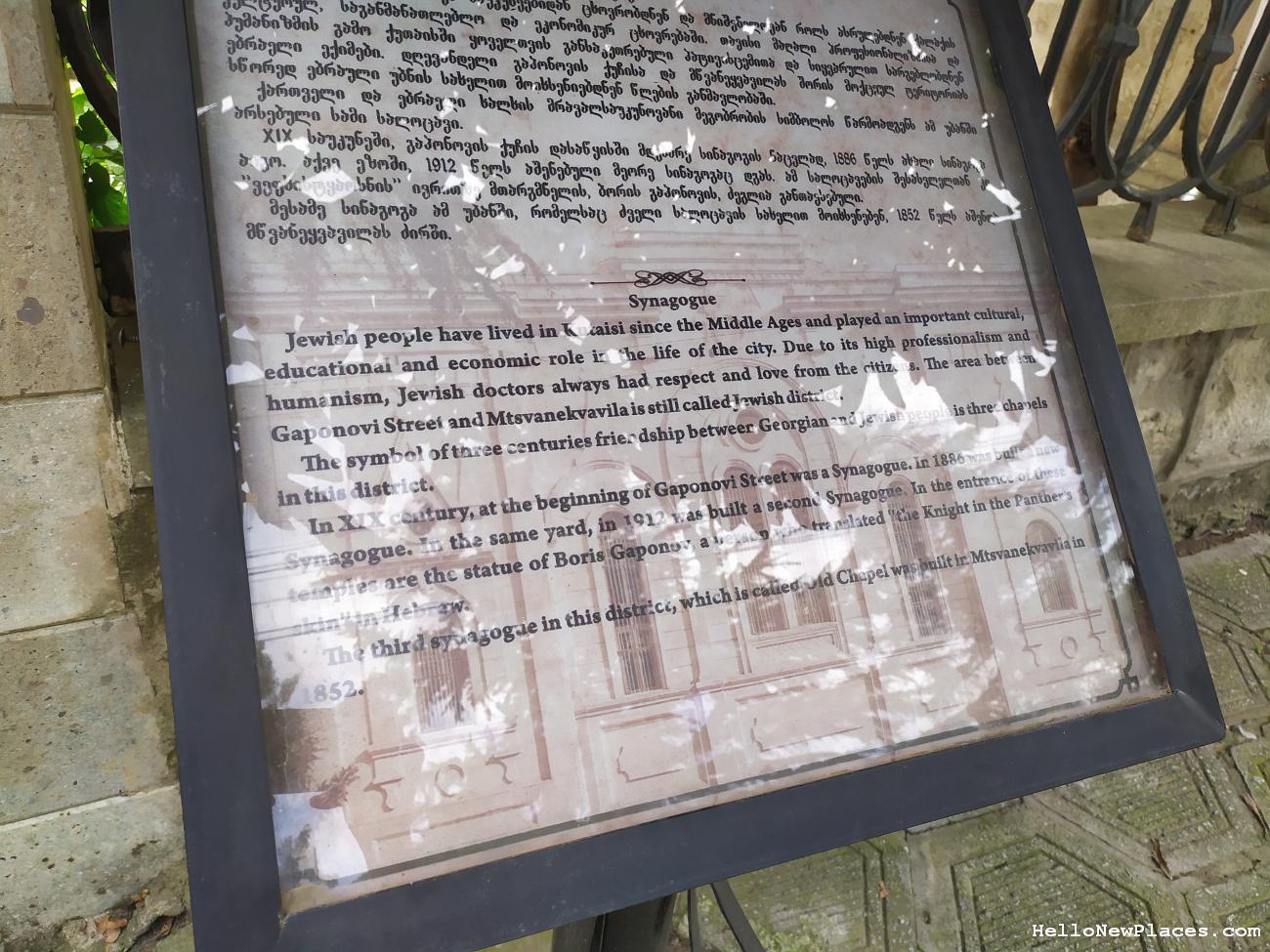 Kittens and pomegranates
A kitten ran up to us and tried to befriend with people standing still. As we walked on, a seller from small store near us ran to kitten, picked it up and cuddled it like there's no tomorrow. And who would not!
We passed another exotic thing for me - pomegranate tree! I suspect kitten and tree were not planned part of the tour.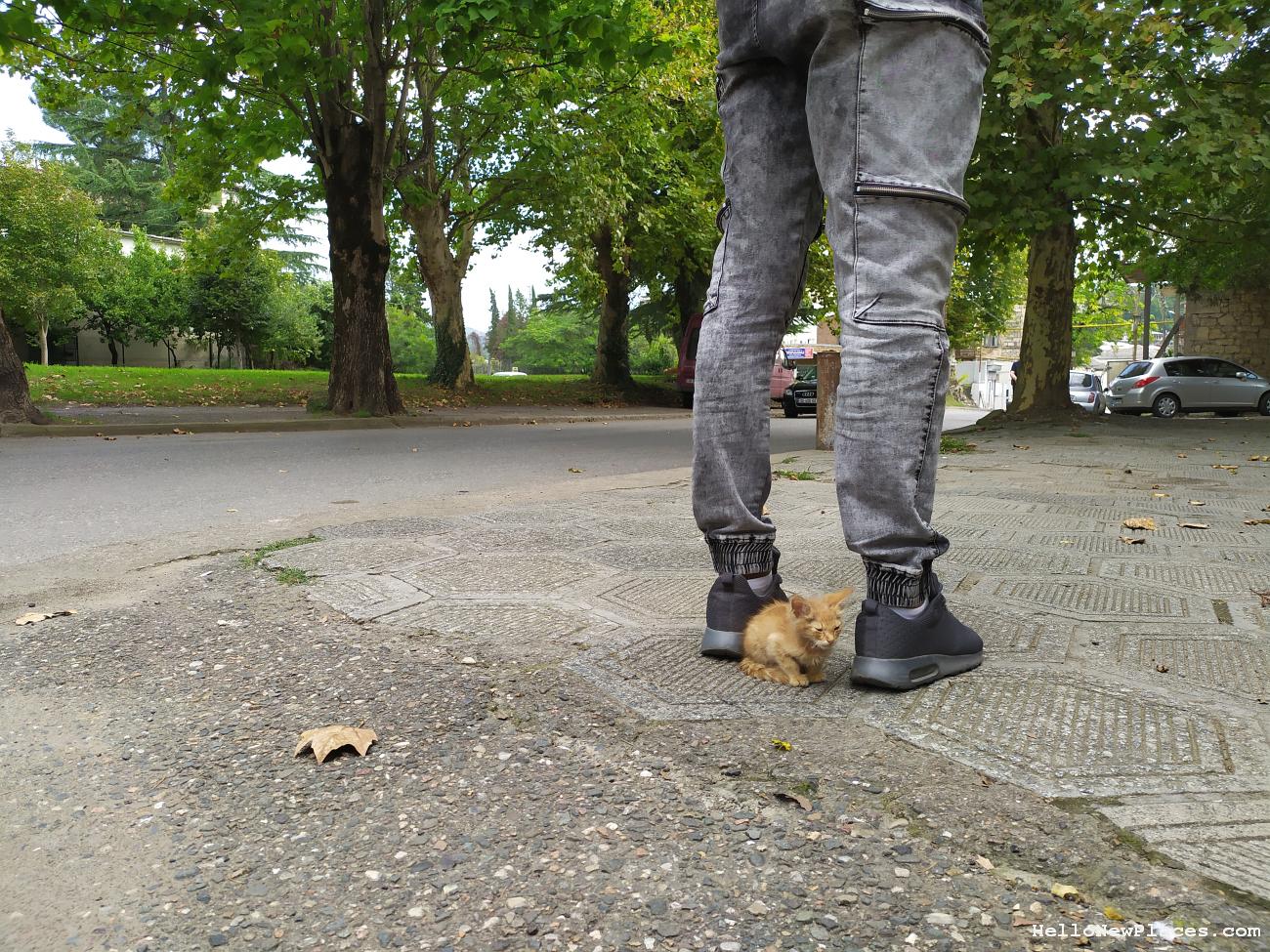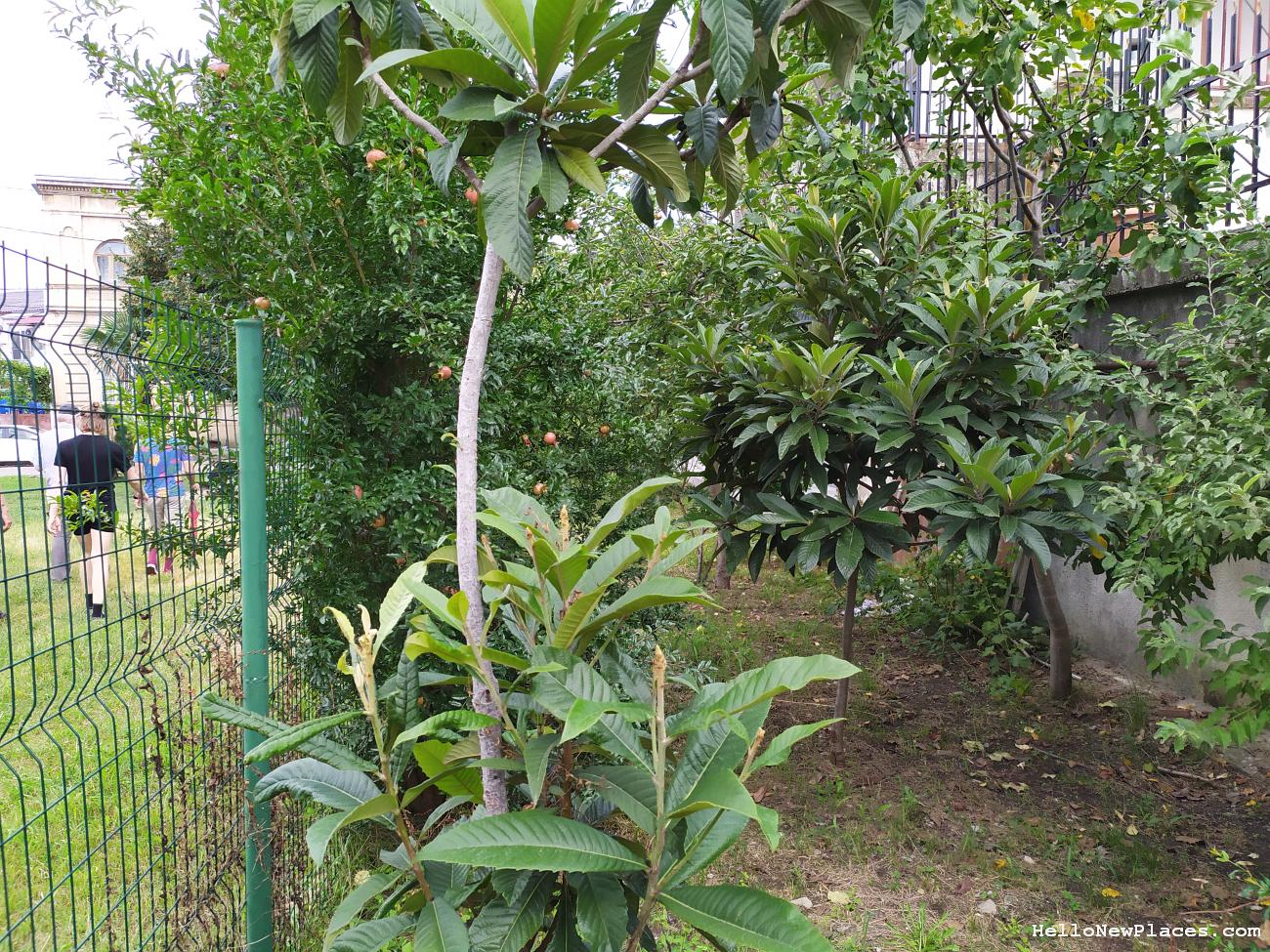 Three street views of Kutaisi city
In quarter of an hour we passed through different neighbourhoods and diverse cityscape.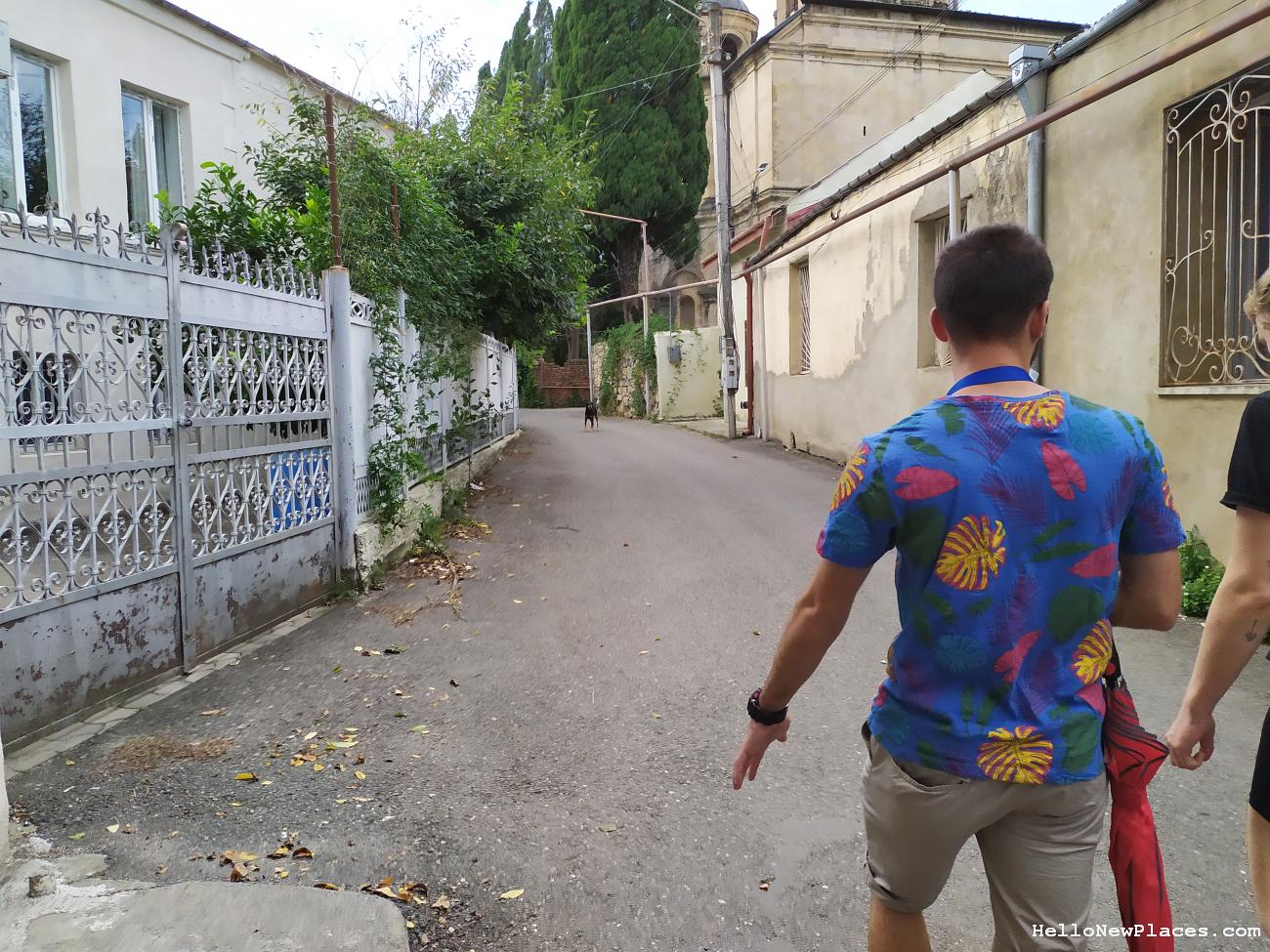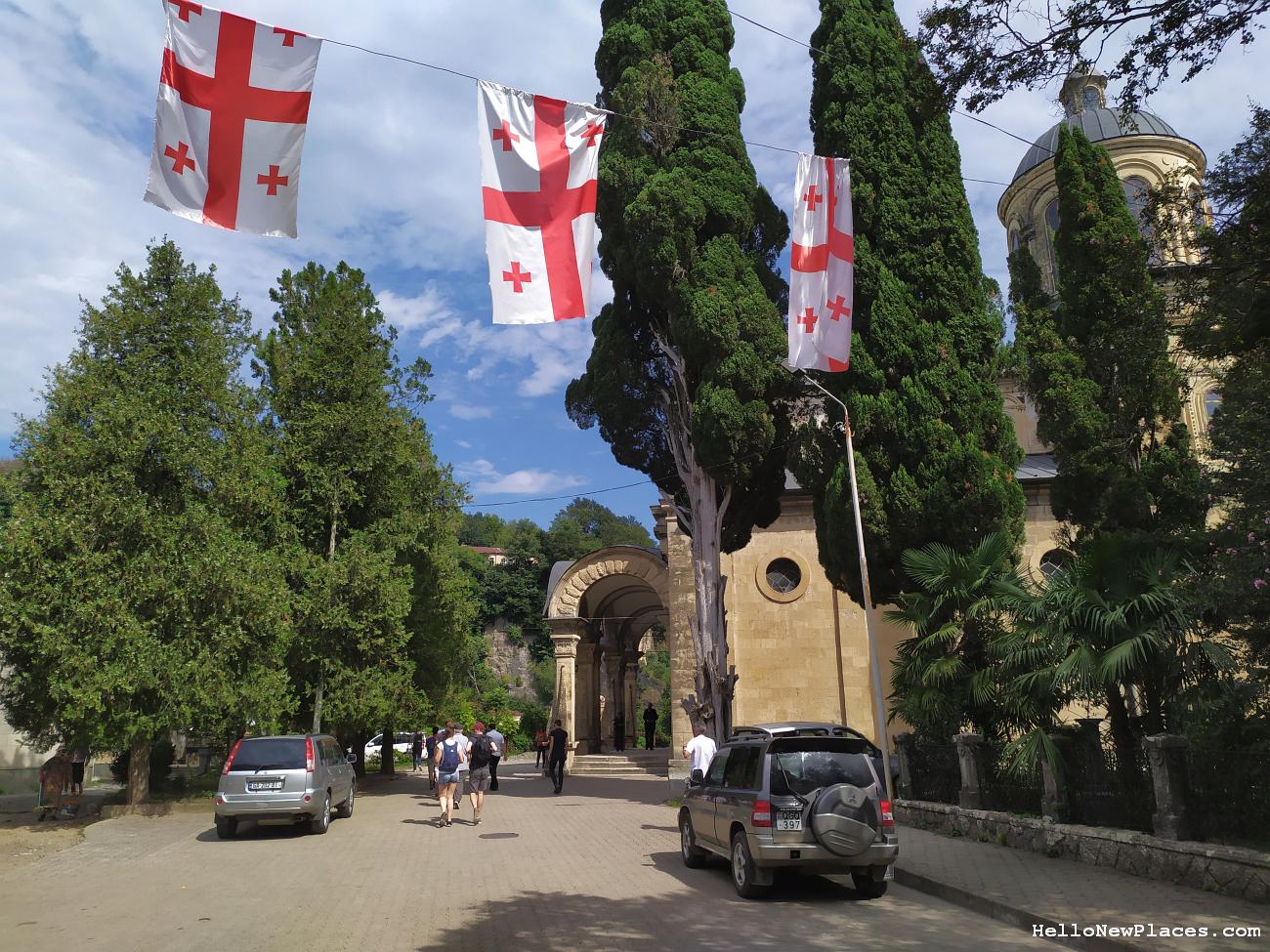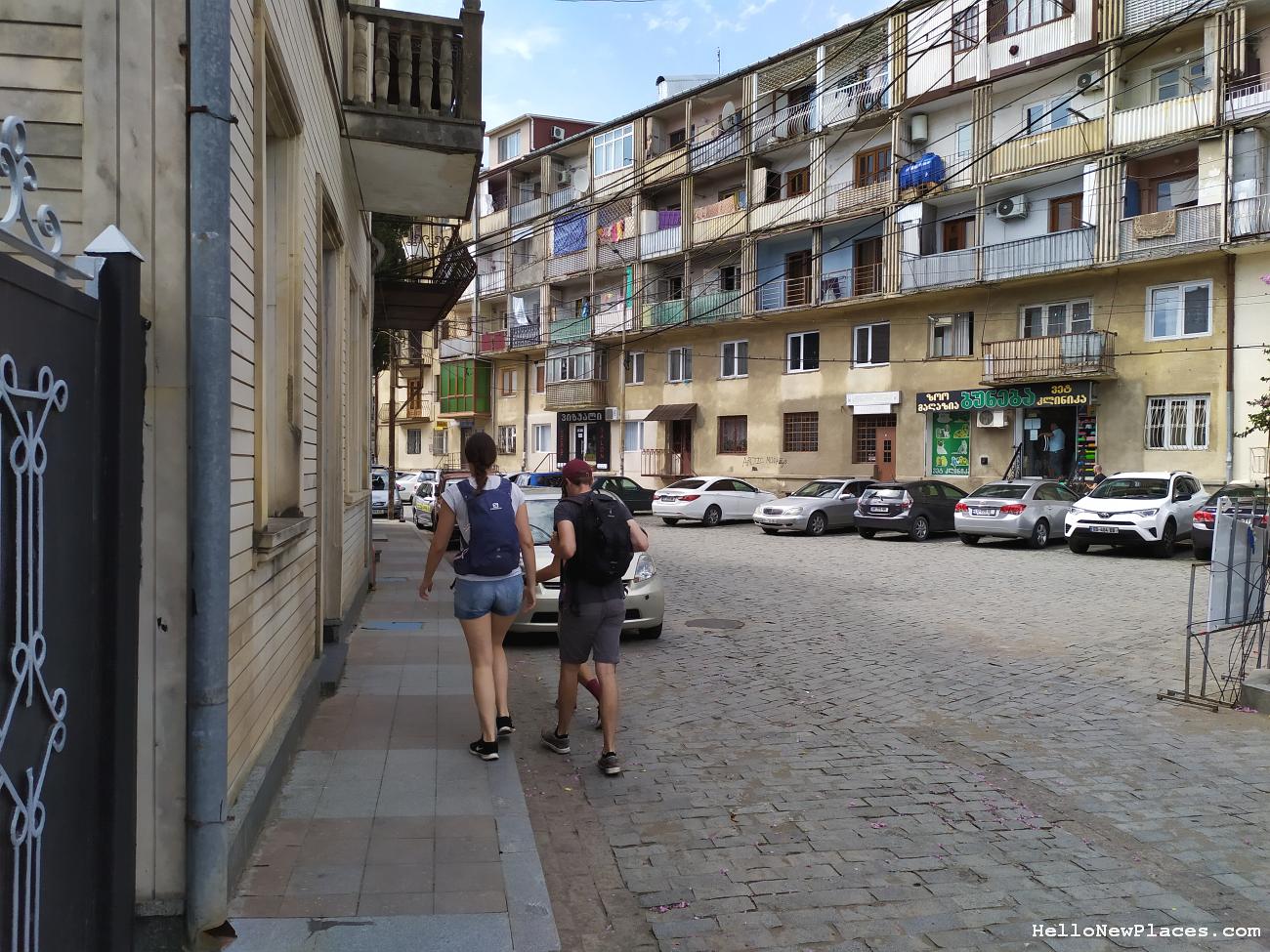 White bridge
Our longer stop was by White bridge, near Kutaisi aerial tram lower station and Tourism info Centre. What does the statue symbolize? A scene from a famous Georgian movie, and guide told us about it in detail.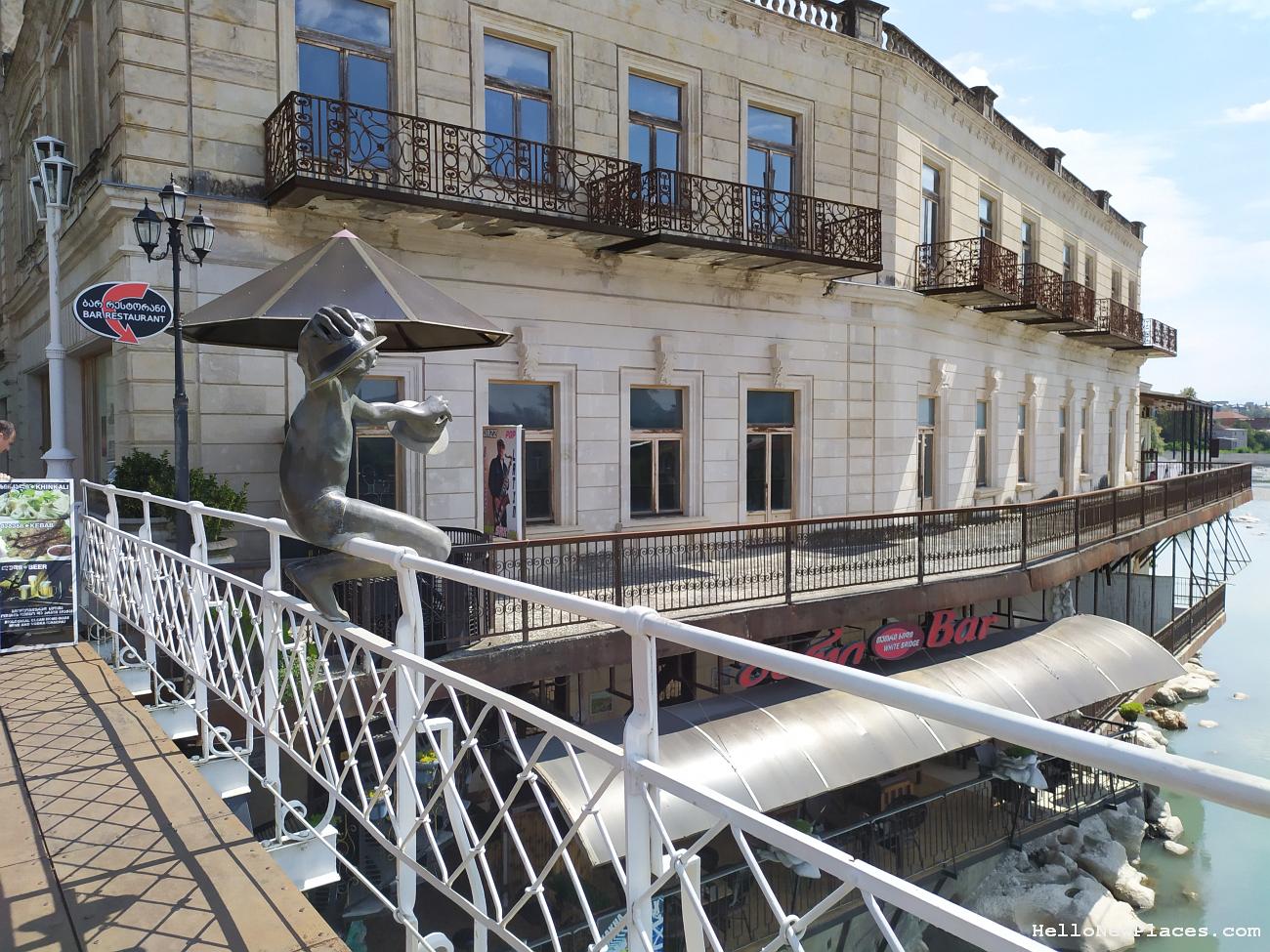 Central market
We walked through Central market. The building itself is decorated with unexpectedly rich detail. Market itself has one large inner area for fruits and veggies.
A long shopping street along the road which leads to Colchis Fountain and some shops are at lower floor.
Guide warned us to avoid eye contact with sellers as possible, since we were just passing through. Otherwise it can be tricky to leave without trying things and how do you leave after trying but not buying? 🙂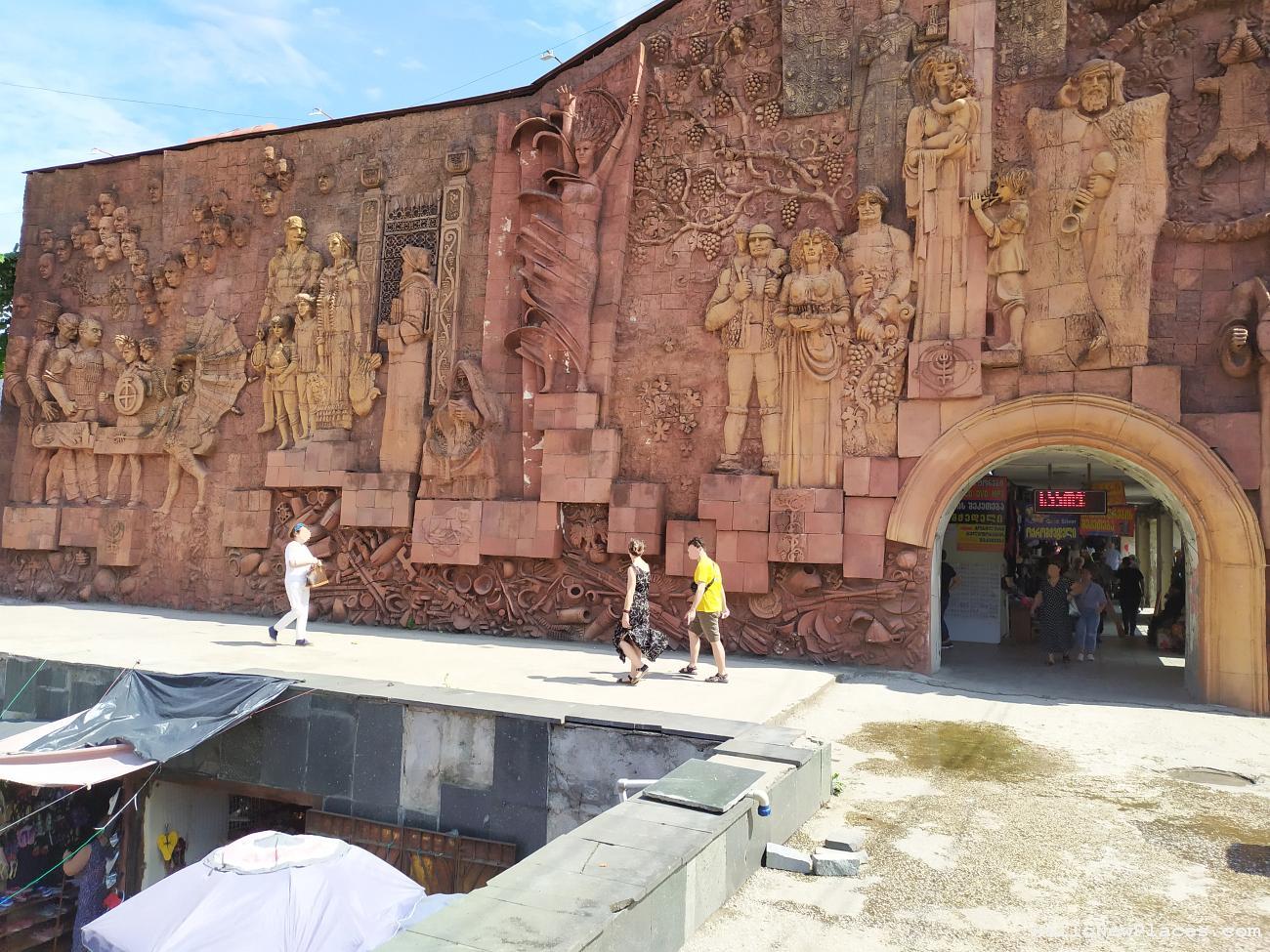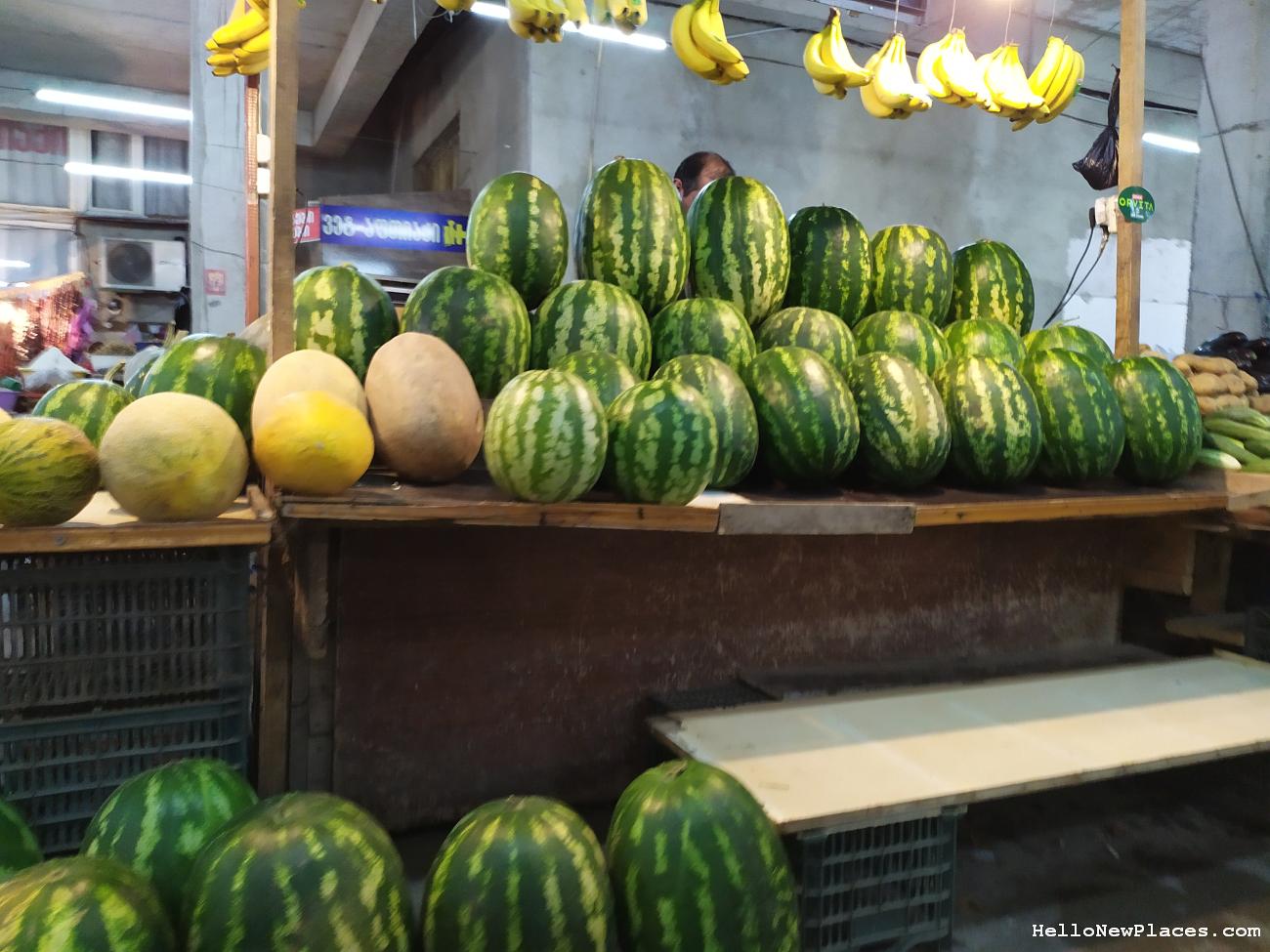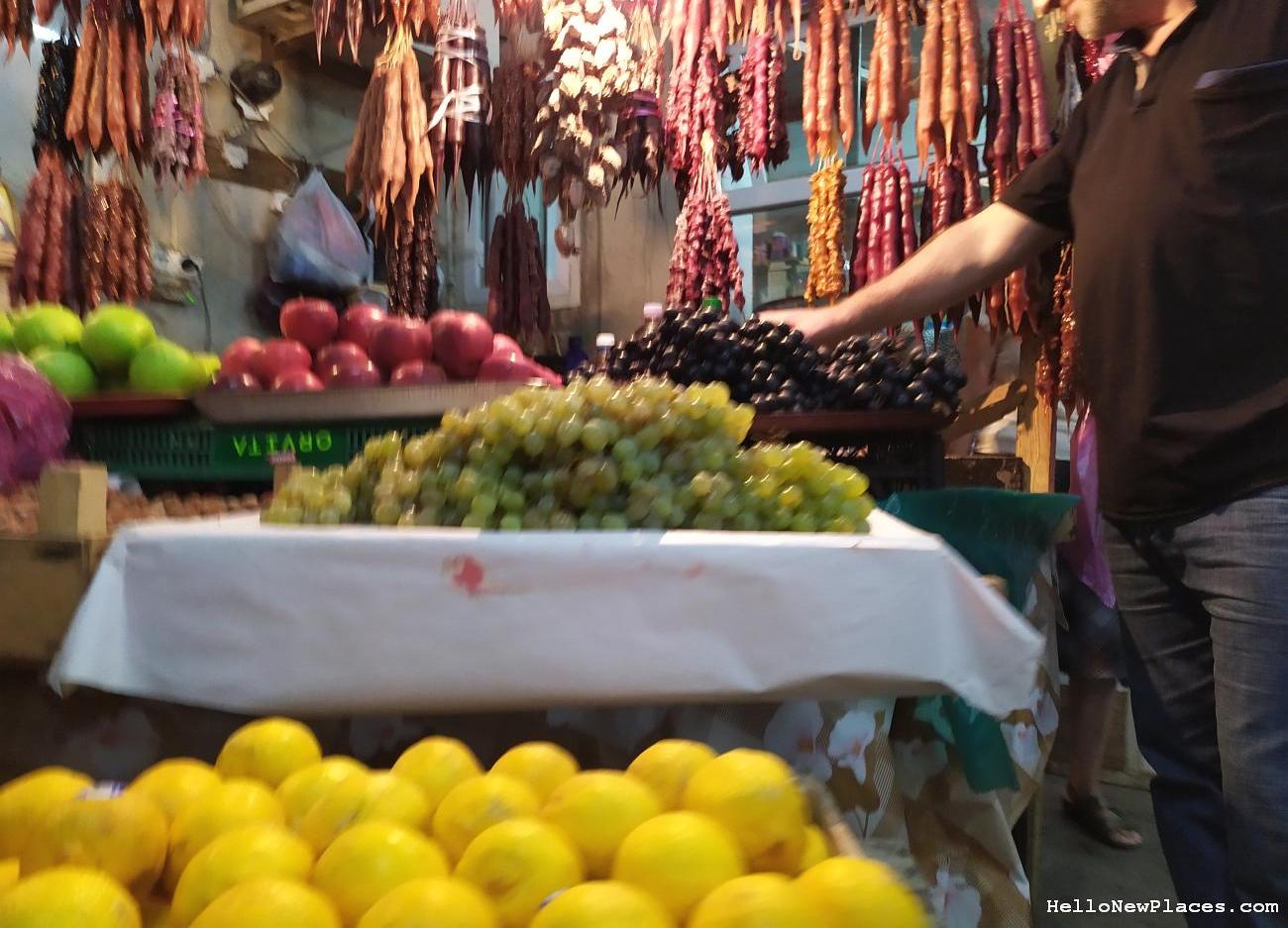 Chain bridge and local businesses
Then we crossed Chain bridge and walked towards Bagrati Cathedral. We passed a few local businesses on the way and I took a few quick photos.
It's interesting how specialized every store and business is.
According to tea farmers this makes life both easy and difficult. There is always someone who does the thing you need. Downside is that it's complicated to get all things from one place. Large constructions stores where it's possible to get all things in one go are not a thing in Georgia.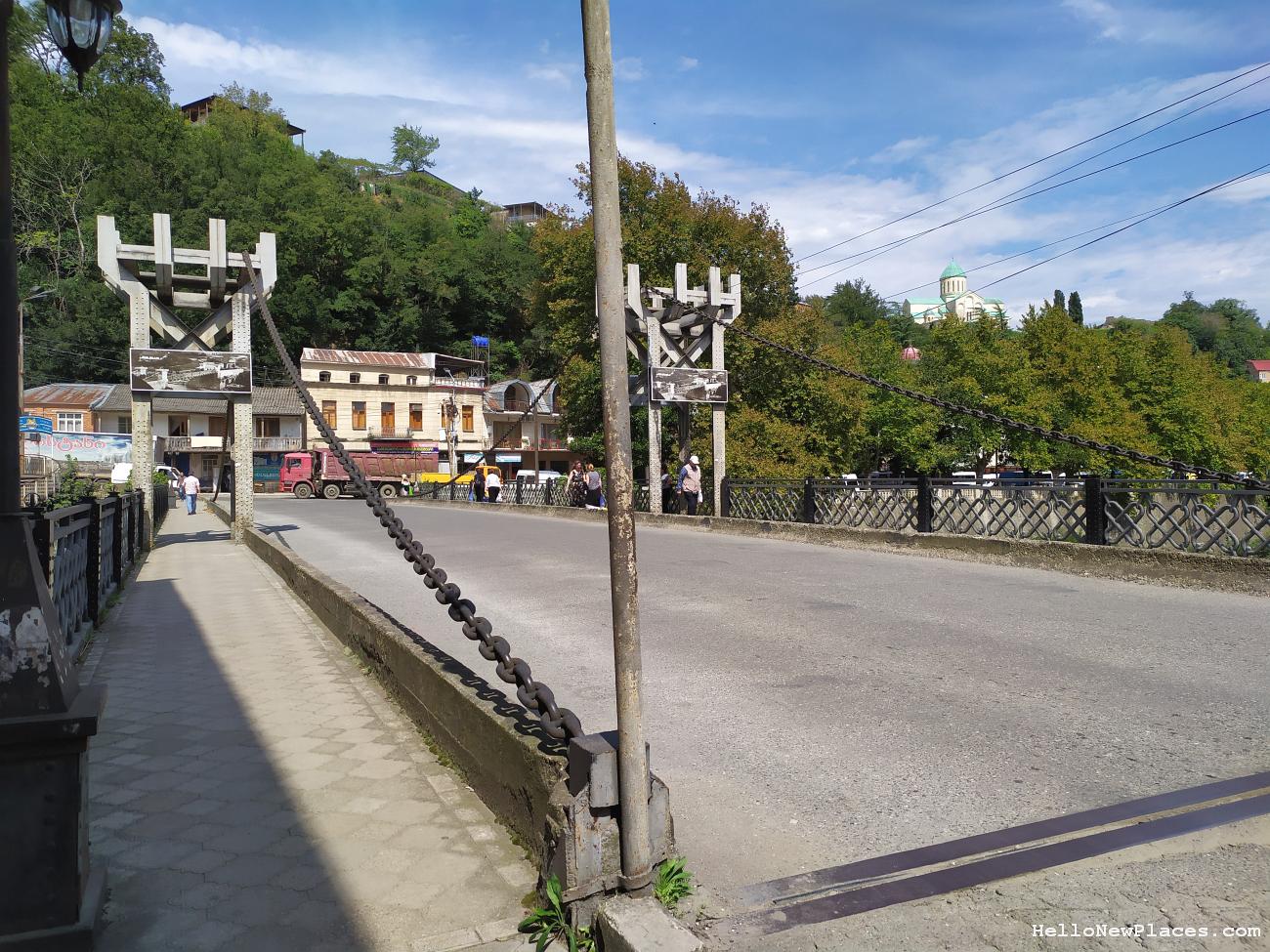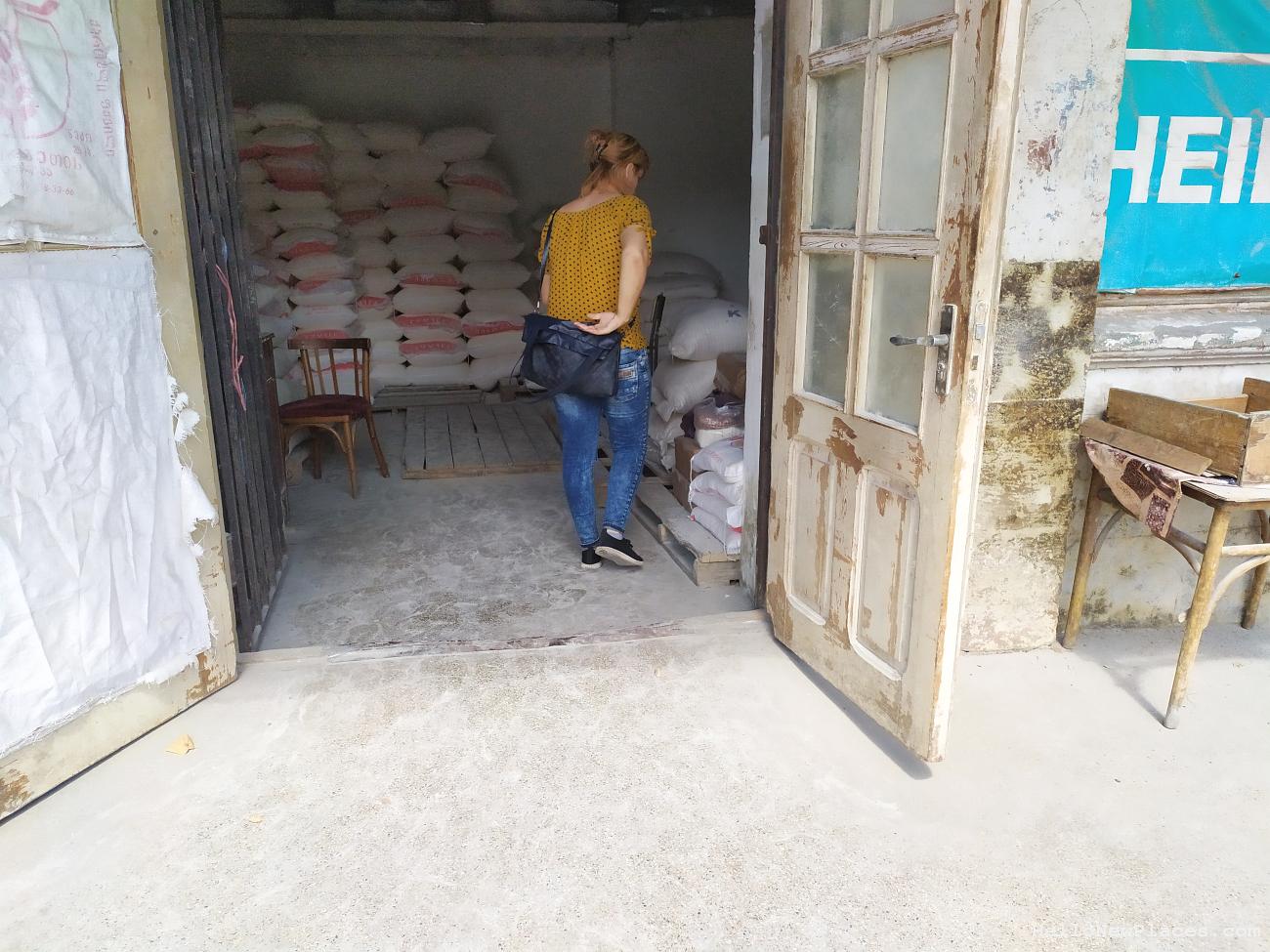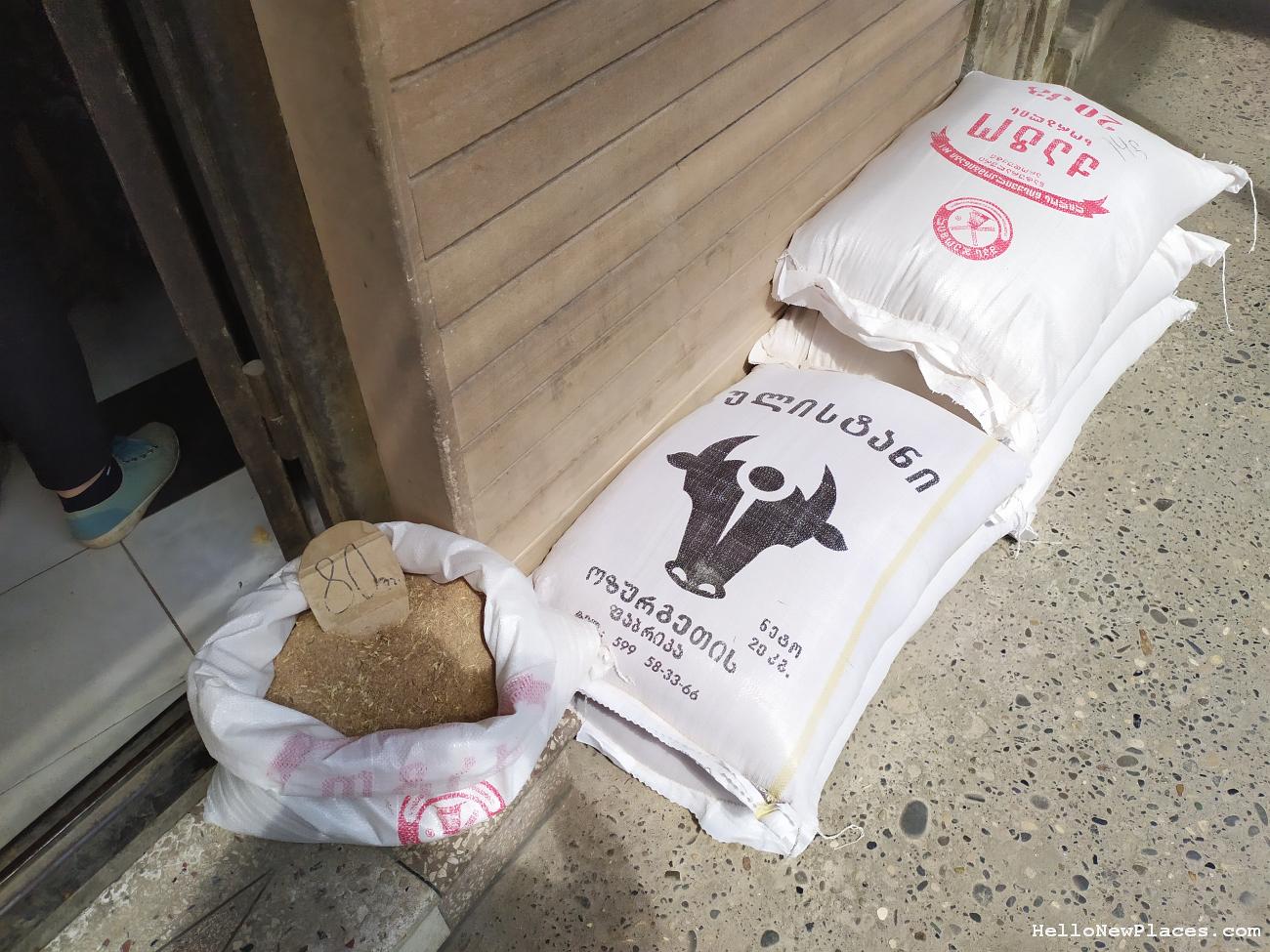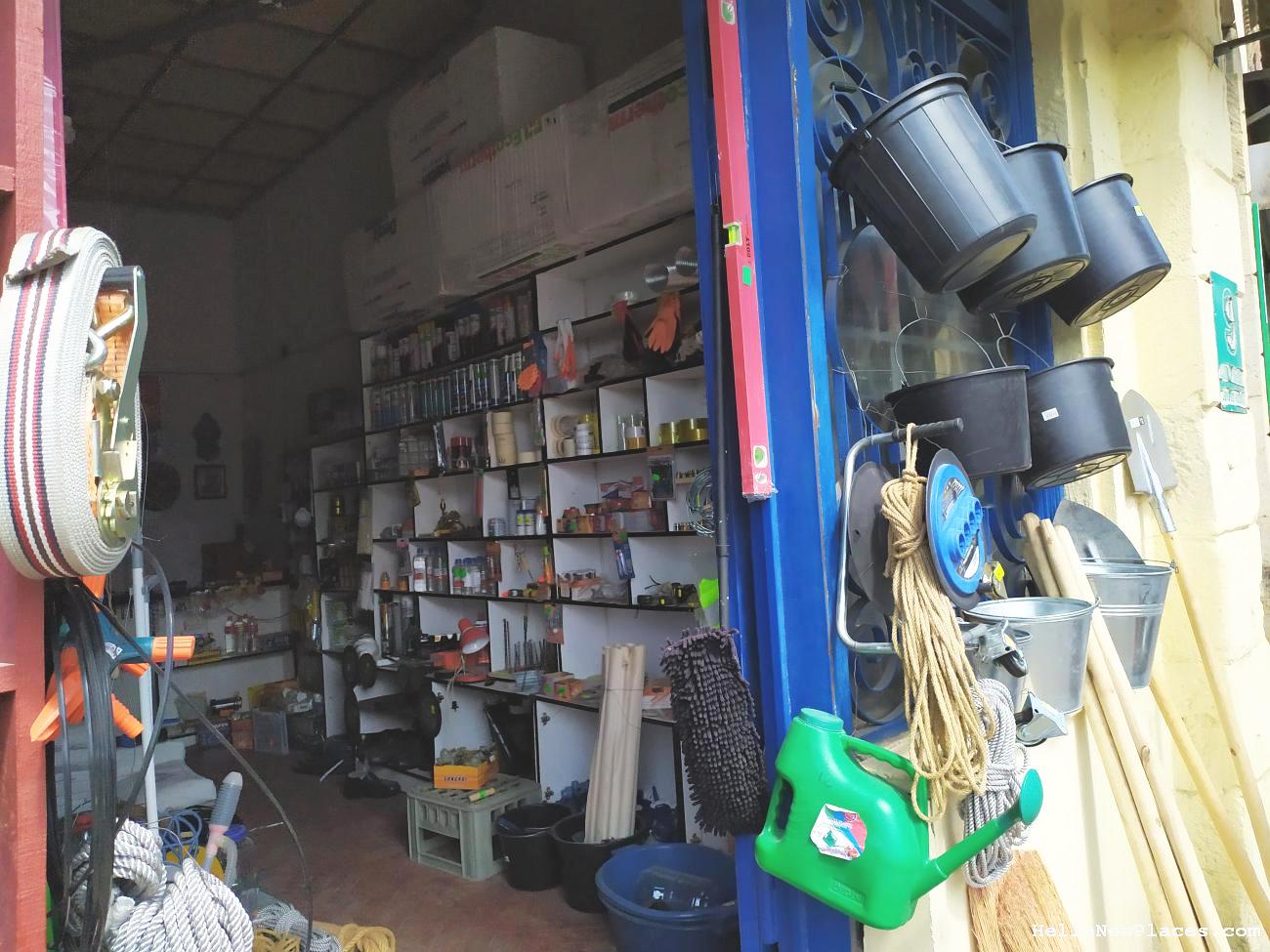 Bagrati cathedral
Then we climbed up hundreds of steps to the best known sight in Kutaisi, Bagrati Cathedral.
Cathedral overlooks the city. Can you imagine how impressive it must have been over hundreds of years? Still is. By the way, the cathedral was finished in 1003. It has been renovated several times.
We stopped under only large tree by cathedral and our guide told us about it in more detail. One of many street dogs had already found their spot there and was just enjoying the shade. So here's a photo of cathedral and to the other side, dog and Kutaisi in distance.
Tip, try to visit cathedral around sunrise or sunset. View to the city is superb.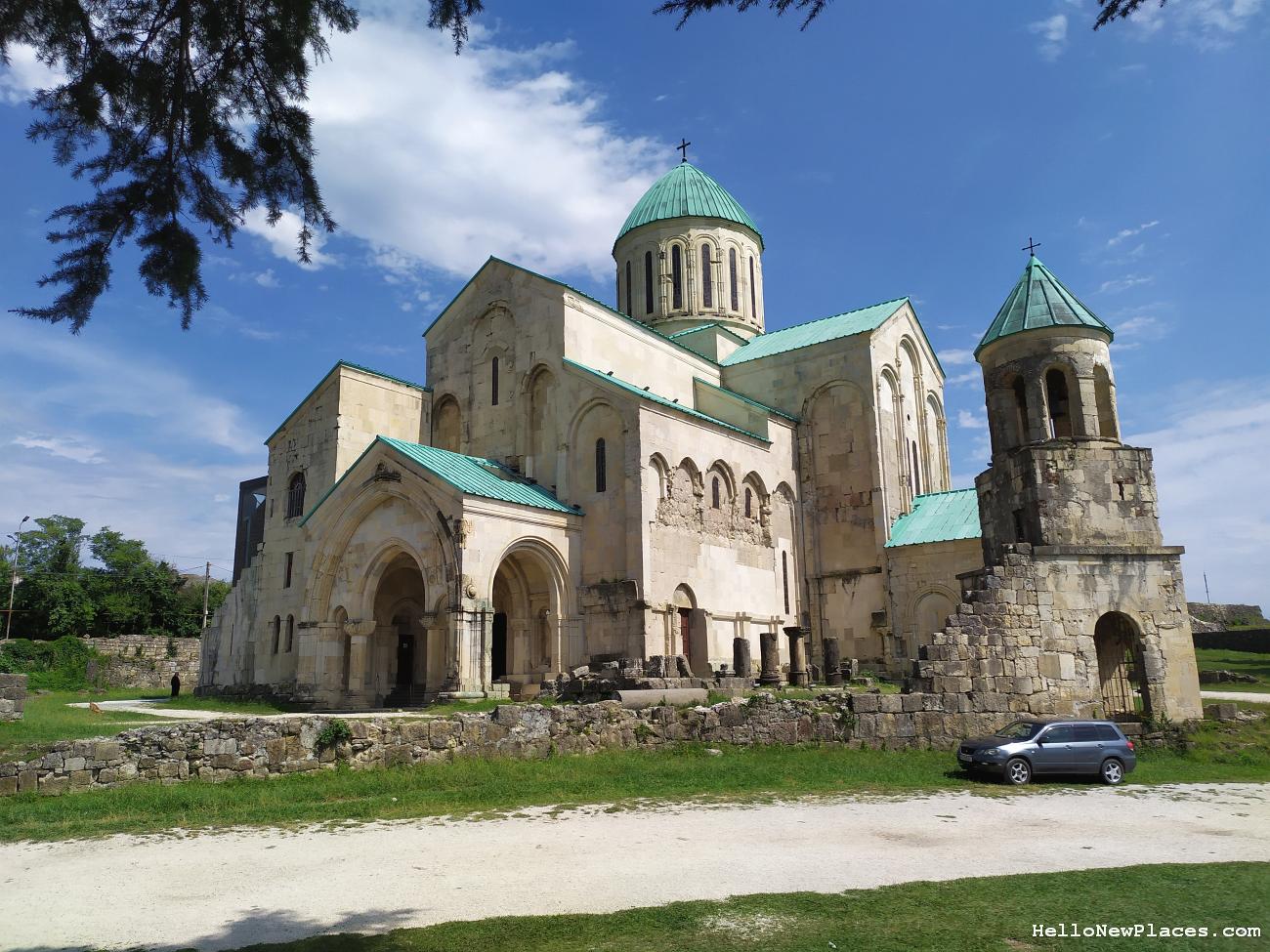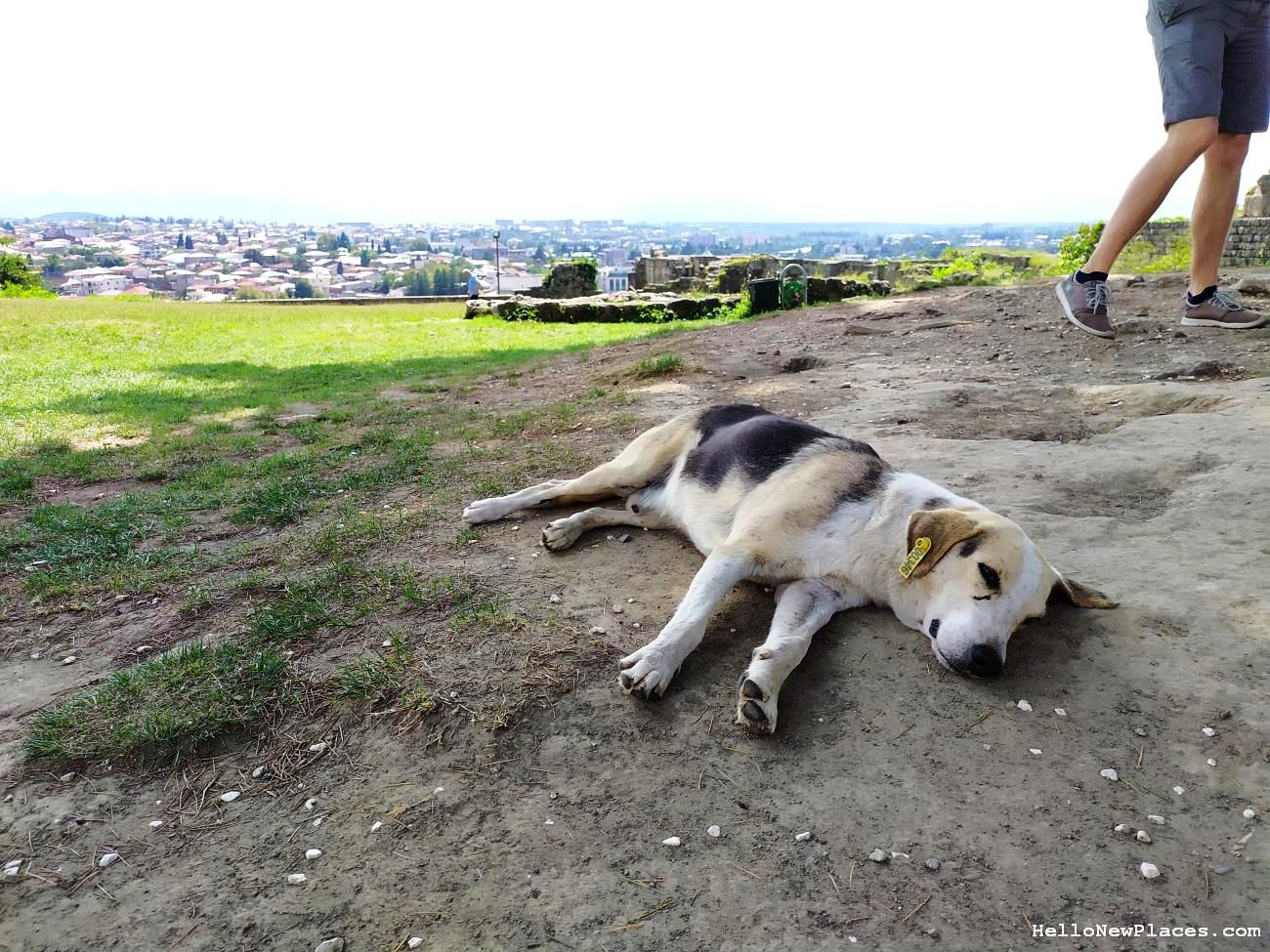 This concluded our two hour free walking tour in Kutaisi. We tipped our guide. I walked back to the city with him and we chatted about tea growing in Georgia a bit more. Then it was time to escape mid day sun and I headed to Tea House.
The tour was definitely worth it. I didn't share stories from most of my notes this time. It has been about half a year since the tour and the stories told on tour should stay there.
Even if photos give some sense of the experience, it's being there and experiencing the city, smells, sights, making own observations that really make a good tour. Akaki's stories bring the place alive in different ways and when you are in city for only one or two days, such tour is so worth it.
See more suggestions what to do in Kutaisi.